Become a Christian
Choosing to receive Jesus as your personal savior and follow Him is the most important decision you will ever make.  God loves you!  He created you and desires a personal relationship with you.  He loves you so much that He made a way through the shed blood of His Son, Jesus, for you to spend eternity with Him.   You may think you are a good person, but being good is not enough.  Every person has sinned is separated from God until they repent, believe and receive new birth (new life) through Jesus.
The Bible says in John 3:16 "For God so loved the world, that he gave his only Son, that whoever believes in him should not perish but have eternal life." NIV

And John 14:6-7 says 6 Jesus told him, "I am the way, the truth, and the life. No one can come to the Father except through me.  NLT

Romans 5:8, "But God showed his great love for us by sending Christ to die for us while we were still sinners." NLT
Receiving Jesus is easy!
A - Admit to God that you need and want His help and forgiveness; repent for the wrong you have done and turn to Him.  (Acts 3:19, "Repent, then, and turn to God, so that your sins may be wiped out.." 1 John 1:9,  "But if we confess our sins to him, he is faithful and just to forgive us our sins and to cleanse us from all wickedness." )
B - Believe that Jesus is God's Son and accept God's gift of forgiveness  (Ephesians 2:8-9, "God saved you by his grace when you believed. And you can't take credit for this; it is a gift from God. 9 Salvation is not a reward for the good things we have done, so none of us can boast about it.").
C - Confess your faith in Jesus Christ as Savior and Lord (Romans 10:9-10, "If you confess with your mouth that Jesus is Lord and believe in your heart that God raised him from the dead, you will be saved. For with the heart one believes and is justified, and with the mouth one confesses and is saved.")
Here is a sample prayer to help you as you talk to God.  Pray to Him from your heart.
Dear God:
I know I have sinned and that my sin separates me from You. I am sorry for my sin. I believe Jesus died on the cross for me so my sin can be forgiven. I believe Jesus rose from the dead and is alive.  I ask Jesus to come into my life and be my Savior and Lord. I will obey You and live for You. Thank You. Amen.
Take the Plunge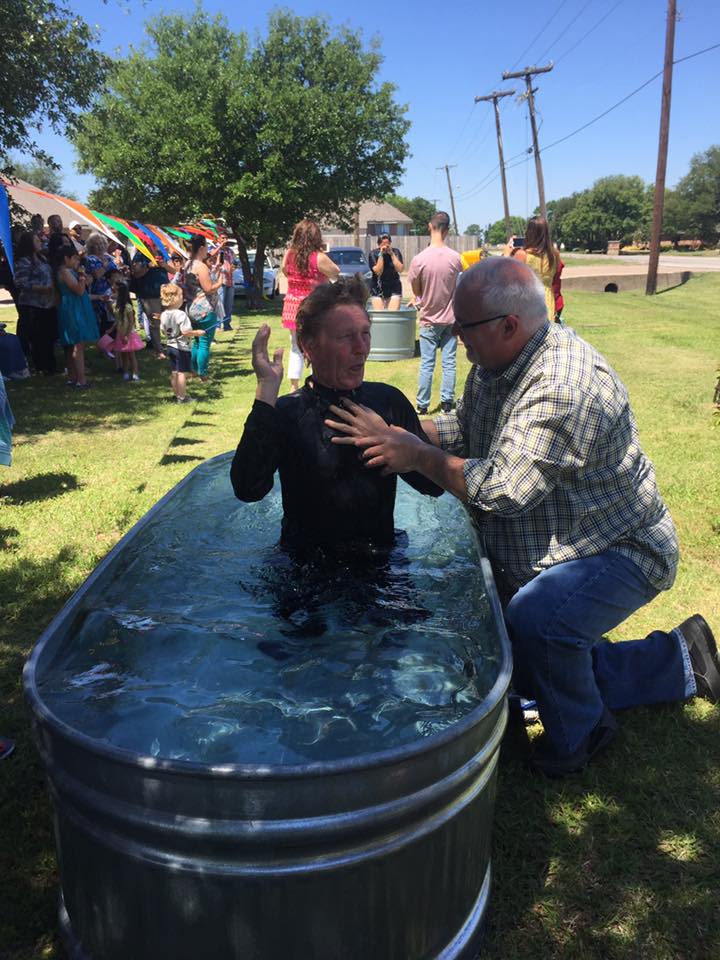 Getting baptized in water is a public declaration of your faith in Jesus and is cause for celebration around Cornerstone. It's letting go of our old life and coming alive to new life in Christ. ​Jesus said, "Go into all the world and preach the Good News to everyone. Anyone who believes and is baptized will be saved." (Mark 16:15-16a)
Follow Him
After receiving Jesus as your Lord and Savior it is important to learn to be a follower or disciple of Jesus.  We follow the example Jesus set for us when He did life with His disciples.  He was real with them, He taught them, He showed them through practical experience what life with Him is like.  Through a program called Thrive, we would like to introduce you to a Christian friend who will guide and help you as you learn to be a Christ follower.
Choose Community
Hebrews 10:24-25 says "And let us consider how we may spur one another on toward love and good deeds, not giving up meeting together, as some are in the habit of doing, but encouraging one another – and all the more as you see the day approaching."  We encourage you to faithfully attend Sunday morning services.  This is where you can connect with other believers in worship, prayer and service. You are now part of the body of Christ and this body needs you!
Join the Mission
Part of the joy of serving Christ is in serving each other. God has given you talents, a purpose, and a ministry.   We want to help you discover how God wants to know and use you here at Cornerstone. The Bible says in 1 Peter 4:10  "Each of you should use whatever gift you have received to serve others, as faithful stewards of God's grace in its various forms."
Please click here to volunteer to serve.